Fall Festival Weekends
Come out to the farm for lots of family fun, activities, entertainment, food, pumpkins, etc. for 6 weekends in the Fall.
Click HERE for Fall Festival pictures from prior years.

Barn N Bunk Sweetest Day Event: October 21st -- Noon to 4:00 PM
Support your local artisans by shopping with us for unique gifts, home decor, vintage and repurposed items! Admission is free and all ages are welcome!

Rent a Party Room

The Barn-n-Bunk is a unique farm market that has an array of foods and crafts available such as: a blending of home grown fresh produce, Baked goods from a local baker, cheeses and jellies, honeys, pickled products and specialty mixes. We feature gift items from 40 local crafters who specialize in woods, fabrics, candles by Yankee, McCall's, Warm Glow and more, florals, baskets, framed prints, potpourris, and furniture. Barn-n-Bunk Farm Market is open from March through December.
---

Fall Festival Hours:
Saturday 12:00 to 5:00 PM
Sunday 12:00 to 5:00 PM
---
WHAT'S NEW at BARN-N-BUNK FARM MARKET
---
---
---
FARM HISTORY
The Barn-n-Bunk Farm Market is a family-owned business established by Tom and Bev Theobald in 1992. The farm is located at 3677 Wayne-Madison Road, Trenton, Ohio. This farm has been "home" to Tom's dad in the 1930"s and to Bev's family since 1941. In 1975, Tom and Bev moved here to raise their young family on the farm. Today, Tom, Bev and son Brian work at the Barn, full time. Many other family members are also involved parttime.

Take some time to come out to the farm, enjoy a day in the country, and experience the down home hospitality as you are welcomed as part of the family. Always free admission, free parking.

More Information...
---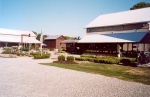 ---



Deli Meats & Cheese
Visit our Deli Department in the Ice Cream and Candy Shop. You will find a wide selection of Amish meats and cheeses, sliced to your personal preference. Order a deli combo for lunch and stay for awhile at the farm.
Parties and Celebrations
Call now to reserve our 1893 Barn for your wedding receptions, class reunions, special anniversary, retirement party, etc. Catering service will be included with your party plans.
Photos from a Recent Wedding at BNB
Photos from a recent wedding at Barn-n-Bunk.
Deli, Ice Cream & Candy Shop
Visit our Deli, Ice Cream and Candy Shop! We offer Hershey's Premium ice cream and a wide variety of candies. Also, look here for our new Deli!! We feature Amish meats and cheeses.
Gift Baskets
Send Barn-n-Bunk gift baskets to family and friends. Also a great idea for your corporate gifts, as well.
Barn Raisings
We have reconstructed 2 barns here and we have a lot of photos...
American Steel Carports
Both A-Frame Horizontal Style and A-Frame Vertical Style Carports Available. Stop by the Barn-n-Bunk farm market for details.